Thunder in Paradise is an one hour special. It is the fifteen and sixteen episode of Season 4 of The Thundermans and the 83rd and 84th episode overall. It is set to air on June 24, 2017.[1]
Plot
The Thundermans travel to Hawaii for summer vacation, but there is trouble in paradise as Phoebe inadvertently has absorbed Dark Mayhem's evil powers, and now is determined to complete his plan for world domination.[1]
Cast
Main Cast
Recurring Cast
Guest Cast
TBA
Continuity
This one hour special will continue the events that started in the previous episode, "Come What Mayhem." This makes the full evil Phoebe arc to be a full feature-length movie of 90 minutes.
Trivia
Filming for this special started on March 28, 2017 and was completed on April 8, 2017.
Jack Griffo and Kira Kosarin have teased about the movie through Instagram and Twitter.
Some parts of the movie were filmed in Paradise Cove Beach Cafe, Malibu, CA and Huntington Beach, CA while others were filmed at the set.
The movie is confirmed to be one-hour.
This will be the first Nickelodeon feature-length movie from a TV show since iCarly's iGo To Japan and Big Time Rush's Big Time Movie
Kira and Jack learnt how to ride an ATV vehicle for this special.
The synopsis and premiere date were revealed in the May 2017 issue of the J-14 magazine.
Dark Mayhem or at least his voice are likely to be featured in this episode.
This is going to be their second time the Thunderman Family go to a beach.
Gallery
Videos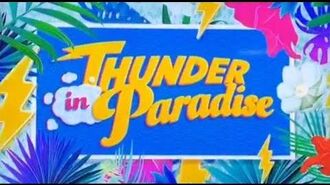 References
Ad blocker interference detected!
Wikia is a free-to-use site that makes money from advertising. We have a modified experience for viewers using ad blockers

Wikia is not accessible if you've made further modifications. Remove the custom ad blocker rule(s) and the page will load as expected.