Season 1 is the first season of the Nickelodeon sitcom, The Thundermans. The season premiered on October 14, 2013 and ended on June 14, 2014.
Premise
Follows a pair of superhero twins, Phoebe (Kira Kosarin) and Max Thunderman (Jack Griffo). With opposite personalities, they must navigate their way through school, friends and a family of extraordinary superheroes, all while keeping their true identities a secret.
Main Cast
Main Cast
Recurring Cast
Guest Cast
Jim McCaffree as Principal Manbeck
Gibson Bobby Sjobeck as Birthday Boy
Kira Kosarin as Fake Dark Mayhem
Paul Mckinney as Photographer
Shaan Sharma as Delivery Guy
Kat McNarama as Tara Campbell
Robert Curtis Brown as Gerald Campbell
Margaret Easley as Fiona Campbell
Mary Passeri as Henrietta Williams
Ryan Powers as Dancer #1
Jonathan Langley as Dancer #2
Storm Reid as Avery
Jeff Marlow as Customer
Howard Chai as Curtis
Josh Douglas as Boy at competition
Aerin Ross as Speed Stacker
Jace Norman as Flunky
Matthew Villar as Young Max
Joey D'Auria as Science Fair Judge #1
Waymond Lee as Science Fair Judge #2
Renee Percy as Lisa
Keith Lal as Book Club Member
Cassidy Shaffer as Courtney
Chantz Simpson as Jacob
Jani Wang as Hostess
Patrick Cox as Huge Guy
Taja V. Simpson as Customer
Alexis Lynne Bart as Little Girl
Chris Nuñez as Stanely the Steer
Kel Mitchell as Sensei Kenny
Major Curda, Phillip Wampler, and Jacob Timothy Manown as Lionel & Jake & Tom
Rodney J. Hobbs as Dr. Miller
Dan Sachoff as Dr. Hobbs
Caitlin Muelder as Dean Bartholet
Sabrina Vittore as Nurse
Eden McCoy as Snooty Girl
Joshua Hoover as Mole Pacient
Marcus Folmar as Paul Peterson
Johari Johnson as Paula Peterson
Thomas F. Evans as The Irishman
Episodes
Trivia
The pilot for the show was greenlit in August 2012.
Nickelodeon ordered 13 episodes, for the season, on February 13, 2013. They extended the season by seven episodes on September 20, 2013, just before the the season premiered.
Adventures in Supersitting was aired as a preview on October 14, 2013. The full season premiered on November 2, 2013.
This is the only season without any one hour specials.
Videos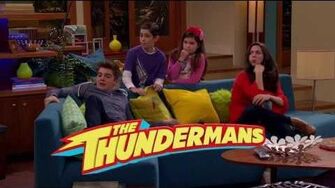 Ad blocker interference detected!
Wikia is a free-to-use site that makes money from advertising. We have a modified experience for viewers using ad blockers

Wikia is not accessible if you've made further modifications. Remove the custom ad blocker rule(s) and the page will load as expected.