The Monstermans is a special Halloween-themed opening sequence parody for The Thundermans released by Nickelodeon in anticipation for the Thundermans Halloween episode, Happy Heroween.
In the parody video, the Thundermans are parodied as "The Monstermans" and the opening sequence is changed so that all the characters appear in their Happy Heroween costumes. The Livin a Double Life theme song is changed to Halloween-themed lyrics.
The Monstermans Lyrics
What you see will give you a fright,
You'd better watch out because we bite
We don't fit in our faces can't be seen
Every day for us is like Halloween
A scary spooky family
Is what we are actually
A total mystery to everyone we know
This isn't make believe
It's a monstrosity
Just a ghoulish family
We wanna meet you
Possibly eat you
Livin' the monster life
The Monstermans Opening Credits
Created by Dead Spingarn
Gallery
Video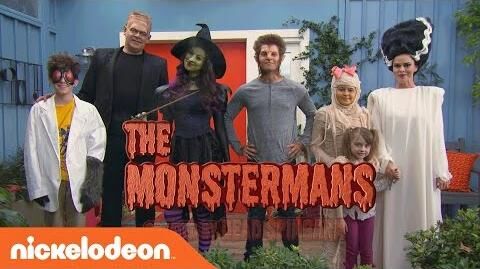 Trivia
This is the first alternate version of the theme song.
The Monstermans theme song was used in Happy Heroween in addition to the normal theme song as part of Dr. Colosso's Monstermans story.