Maya Le Clark is an American actress mostly known for playing Chloe Thunderman on the Nickelodeon series, The Thundermans.
Gallery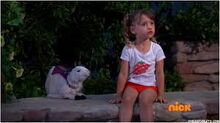 Trivia
Both Maya and her character Chloe Thunderman share the same birthday, March 28.
The Thundermans introduced Maya Le Clark, the newest addition to the Thundermans family. Maya plays Chloe Thunderman in the new season and fans are just starting to get to know her through her Instagram and Twitter accounts, which are managed by her parents.
In the show Chloe Thunderman is portrayed as a 5 year old but Maya is 6 years old.
Ad blocker interference detected!
Wikia is a free-to-use site that makes money from advertising. We have a modified experience for viewers using ad blockers

Wikia is not accessible if you've made further modifications. Remove the custom ad blocker rule(s) and the page will load as expected.